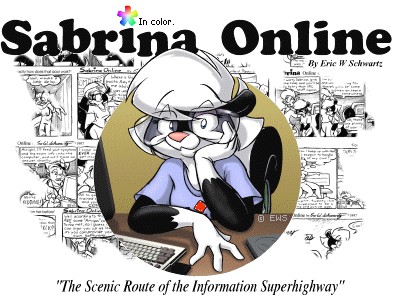 "Sabrina Online" is a comic strip created, written, and drawn by Eric W. Schwartz.
This site carries all the Sabrina Online strips ever made, including some character information, some of Eric's (released) artwork and a bunch of links to various comic sites on the web. Eric Schwartz draws 2-5 new strips every month for the official Sabrina online website. There you can find more information about the comic, and Eric's characters.

A list of the latest additions can be found on the history page.
Calling all colorists - check the list to see which strips still need to be colored!

Lots of thanks to Diederik van der Heyden, Dave Koers, Clinton Howard and "Grosse" for a lot of colours!
Special thanks to Hikaru Katayamma and murlin.com for hosting this site!